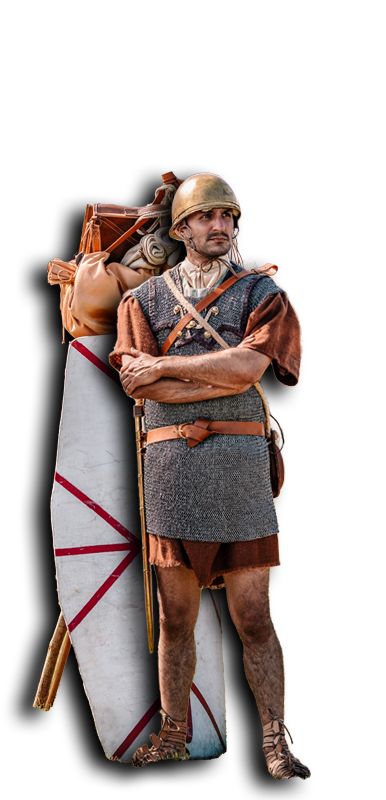 You've been offered to join us, or maybe you want to, but what does being a member of Ave Bagacum mean?

Whether they are officers, legionaries of the ranks, artisans, traders or other, our male and female members share the same vision. That of Living History.

Living History is about going beyond the reconstruction of a costume, it is bringing the Man behind the costume to life. It is trying to understand and share your beliefs, fears, hopes, dreams and failures. It's living a bit like him to understand him a little better.

"With us, you will experience Romanity!"

You will rise at dawn, greeting the dawning day, emerging from the heap of bodies of your brothers in arms whose couch you share. You will receive your balance, allowing you to entertain yourself at the tavern, to improve the ordinary of the flour which you will have to transform into bread to nourish a body tired by the exercises. If not, your companions will offer you to lose it with knucklebones or dice. You will pray with your hands held high and your head covered to the gods above, imploring them to preserve the City and renewing the Pact of the Ancients. You will cover yourself in sweat during maneuvers and chatter your teeth when night falls on the poor sentry. And for you who are a woman or you who don't care about the military?

If the legionaries are the bones of Rome, its civilians are its heart, lungs and liver! Whether you are a craftsman, able to work with fabric, wood, metal or bone; merchant, able to sell what others have done before you; actor or actress, miming and parodying the greats of this world to make the humble laugh ...

All of you have your place here.